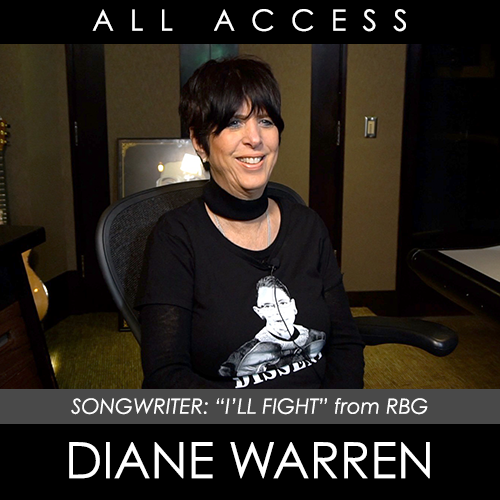 [Watch the video interview on our YouTube Channel]
Diane Warren has written hundreds of hit songs including "Because You Loved Me", "If I Could Turn Back Time", "Rhythm Of The Night", "I Don't Want To Miss A Thing" and many more. Diane has won a Grammy Award, an Emmy Award, a Golden Globe Award, three consecutive Billboard Music Awards for Songwriter of the Year, and has been nominated for nine Academy Awards.
Many of her songs were written for films, and have then gone on to be launched into the stratosphere of pop culture. In recent years her music has tackled incredibly important subjects. She has written "Til It Happens To U" with Lady Gaga, "Stand Up For Something" with contributions from Common, and of course now "I'll Fight" which was performed by Jennifer Hudson for the documentary RBG, about Supreme Court Justice Ruth Bader Ginsburg.
In this All Access we find the extremely fun and down-to-earth Diane taking some time to talk about why she wanted to become a songwriter, and how she got her foot in the door. She talks about the different approaches to writing melodies and lyrics, and why music is such a powerful tool for expressing ourselves and commenting on the world around us.
Interview Produced & Presented By: Kaya Savas
Special Thanks: Diane Warren, Jeff Sanderson, Chasen & Company