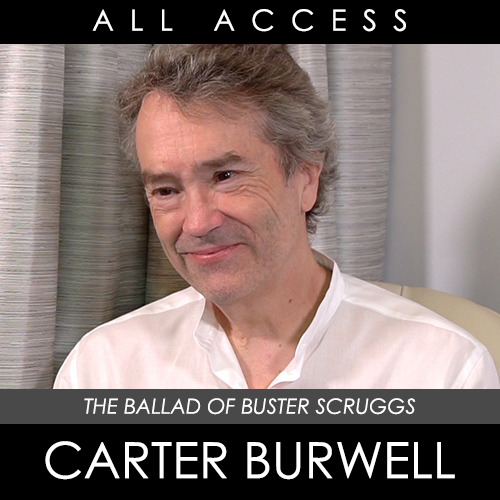 [Watch the video interview on our YouTube Channel]
Carter Burwell is a true auteur of his craft, and one of the most respected and cherished composers working in the industry. While he's mostly known for his work with The Coen Brothers, his entire filmography is filled with treasures. For this All Access we sit down and discuss Carter's unique path to becoming a composer, including how he met The Coen Brothers to score Blood Simple and kickoff an unexpected career as a composer.
We walk through some of Carter's most memorable Coen brothers scores including Blood Simple, Raising Arizona, Miller's Crossing, Fargo, True Grit, No Country For Old Men and their recent collaboration on The Ballad Of Buster Scruggs. Carter shares stories such as how he had to write some score for Inside Llewyn Davis just to convince the Coens they didn't want score. Outside of Carter's work with the Coens, we look at his work with Martin McDonagh and Spike Jonze. Hear Carter breakdown his music in films like In Bruges, Three Billboards Outside Ebbing Missouri, Being John Malkovich and Where The Wild Things Are.
Some other discussion points include why Carter decides to live in New York vs Los Angeles, where the first note comes from, the new trend of movies coming directly to Netflix, working on bigger budget studio films, and his views on where the industry stands today.
Carter's brilliant insight and warm personality are a true delight, and you won't find a more incredible view on the craft of film scoring than through Carter Burwell. It was an absolute joy and honor to have him as a guest on this All Access.
Interview Produced & Presented By Kaya Savas
Special Thanks: Carter Burwell, Jeff Sanderson, Chasen PR