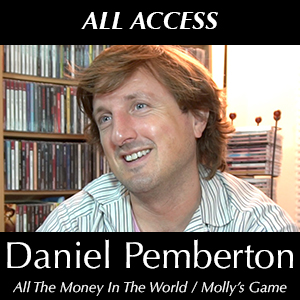 [Watch the video interview on our YouTube Channel]
On this All Access we sit with the extremely talented Daniel Pemberton who has quickly blazed his own path by always aiming to create new sounds and approaches on the scores that he composes. Daniel talks about finding his interests in creating sounds and music, and how that led to him pursue a career as a composer. Daniel shares a story of how he met John Powell by coincidence when his girlfriend was doing a photoshoot with John's wife, Melinda. The two chatted on a bridge at 2am and Daniel learned a lot from John that evening. We go on to discuss many of Daniel's projects such as his scores for directors like Ridley Scott and Guy Ritchie. Also why Daniel decided to remain in the U.K. and not relocate to Los Angeles. This interview was also conducted on the day it was announced that Christopher Plummer would be replacing Kevin Spacey in All The Money In The World, and Daniel gives his thoughts on Ridley's bold skills as a filmmaker. From composing on a small game called The Movies to honing his inner Ennio Morricone to find the right sounds for Guy Ritchie, we cover lots of great stuff in this fantastic chat.
Interview Produced & Presented By:
Kaya Savas
Special Thanks: Daniel, for taking an Uber deep into Burbank to make this interview happen even though you were only here on business for a quick trip! Also to Ray Costa and Costa Communications.