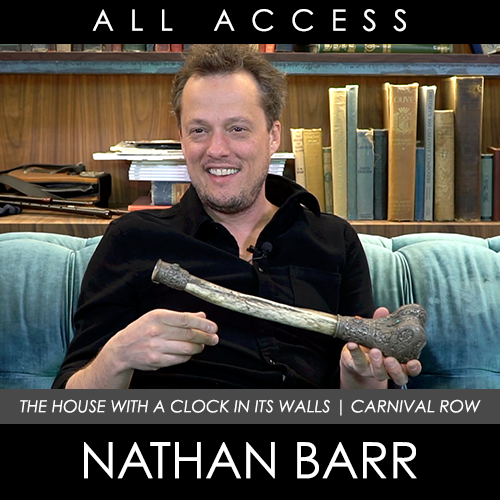 [Watch the video interview on our YouTube Channel]
Nathan Barr's passion and curiosity in unique instruments from around the world, including one made from a human femur, has made him one of the most versatile composers working today. His scores for Cabin Fever, Hostel, Hemlock Grove and True Blood have secured his place as a horror composer. But his scores in various other genres like The Americans, Sneaky Pete, and The Son showcase his versatility as a storyteller across any genre.
In this All Access we dive into Nathan's path to becoming a composer as well has his recent score for The House With A Clock In Its Walls, which sees him reuniting with director Eli Roth. Nathan also talks about what to expect in his upcoming score for Carnival Row on Amazon.
Nathan also recently acquired and restored a 1928 Wurlitzer Theater Organ that used to be installed at 20th Century Fox Studios. He ended up building his studio around it, and Bandrika Studios is now home to some of the most interesting mechanical and automated instruments from around the world. Nathan talks about the history of the Wurlitzer and how it came to be at his studio, and how he's utilizing antique instruments in his modern workflows.
Nathan's passion and curiosity as a storyteller is extremely engaging and contagious. By just spending a little time with him, you immediately want to jump down the rabbit hole into a wonderful world where the past meets the present.
Stay tuned for an upcoming video where we will get a personal tour from Nathan Barr as he walks us through his studio and demos some of the amazing instruments at Bandrika, including the wonderful Wurlitzer.
Interview Produced & Presented By: Kaya Savas