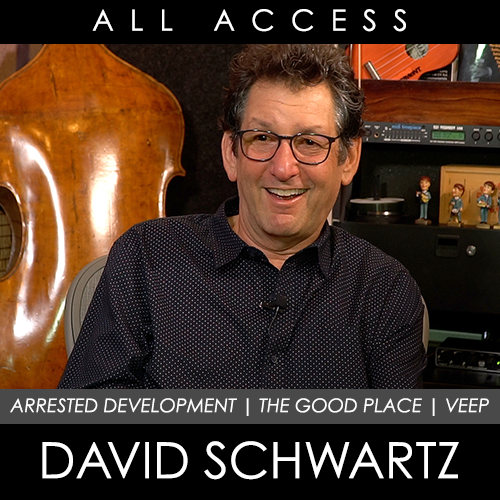 [Watch the video interview on our YouTube Channel]
When you think of smart and engaging television, good chances are that David Schwartz is behind the music of that show. David has scored series such as Northern Exposure, Arrested Development, The Good Place and is now scoring the final season of Veep.
For this All Access we dive in with David to explore his background and his path to becoming a composer. David shares some incredibly fun stories about working on Northern Exposure and what his process is when approaching his writing.
We talk about how David met Mitchell Hurwitz on The John Larroquette Show, and how that relationship was built over several other series before Mitchell had the opportunity to create Arrested Development and bring David onboard for that journey.
We dissect The Good Place, and how David worked with creator Michael Schur who came from shows like The Office and Parks And Rec that used no score. Learn how Michael Schur learned to embrace music in a series and trust David.
We tackle other topics as well such as writing a main theme, finding the write tone, what it feels like for a series you're working on to get cancelled, and so much more!
A Film.Music.Media Interview | Produced & Presented By Kaya Savas