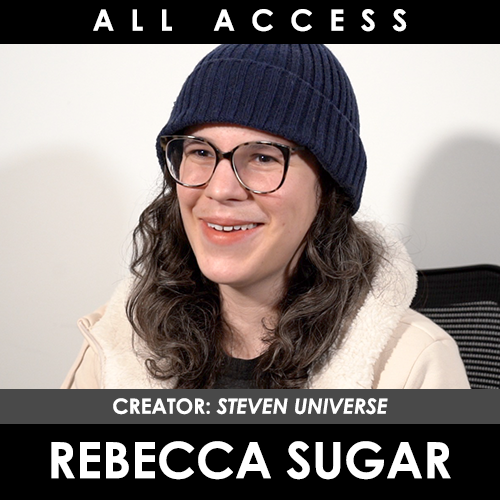 Rebecca Sugar helped define a generation with her groundbreaking series, Steven Universe. For this All Access we welcome the creative mind behind the world of Steven Universe as she shares her story of growing up in suburban Maryland, her love of animation and music, and how she landed at Cartoon Network Studios where she ultimately pitched the idea for Steven Universe.
For this All Access we sit with Rebecca as she talks about what her initial dreams and aspirations were when she was young, and show she discovered animation. She shares stories of going to school, and how she was hired at Cartoon Network Studios where she was part of the crew for Adventure Time. We talk about how Steven Universe started at the ground level, and how the series has evolved over the seasons. Rebecca also shares the process of creating the ambitious Steven Universe: The Movie, including an in-depth look at her songwriting process and mapping out the songs in the movie. Rebecca also talks about working with composers Aivi & Surasshu on the series as well as on the movie. She talks about what she loved about their sound, and how their score to Steven Universe brings the world to life.
Other topics that we discuss include being open and vulnerable in storytelling, overcoming the pressure of putting yourself out there in the world, what themes and ideas she wanted Steven Universe to cover, working with her entire production team and how the team became a family, the overall animation process, and so much more.
Rebecca's skills as an artist, writer, director, producer, musician, singer and songwriter all make her one of the most talented storytellers working today. She wears many hats, but also loves the collaborative process of animation. We are thrilled to have Rebecca on this episode of All Access.
You can catch Steven Universe: Future on Cartoon Network, new episodes begin airing on March 6th, 2020.
A Film.Music.Media Interview | Produced & Presented by Kaya Savas